Code named: Operation Blue Storm, the N.I.U. are attacking a small Derbaran Military garrison located at the port village of Santorilli. Santorilli has been long considered "Holy Ground" to many of the Derbaran tribes and the N.I.U.'s attack here proves they are desperate to gain control over the War Rock.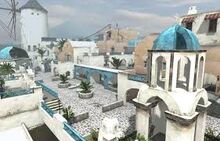 Use Units very wisely
Camp at the Enemy base to kill easily and escape.
Santorilli was alussion for Santorini, a place on Greece